PROGRAM OVERVIEW
Since our inception in January 1996, we have envisioned, developed and conducted a comprehensive program of "cadetting" for boys and girls between the ages of eleven (11) and seventeen (17). This program provides inner-city youth with opportunities for informal education and recreation. Discussions of drug and alcohol abuse, career insights, consumer awareness, and similar topics of importance.

Providing an alternative environment to the city streets for the individual cadets growth and enhancement.

Developing and promoting "cadetting", a structured urban scouting program for young people and to provide the discipline necessary for their day to day life. Within the cadetting framework, organizing and promoting activities, including physical conditioning,, camping and hiking. Establishing a First-Aid Workshop, C.P.R. certification courses, drill teams, and the participation in various, community fairs, parades, etc.
OUR PRINCIPLES
In accomplishing these goals, The Ranger Corps, Inc. cadet program shall be guided by the following principles:
The development of our program shall be geared to the individual needs of our cadets and that of the community. Promoting, reinforcing and monitoring each cadets academic achievements in order that he/she remains as a member in good standing. Individual participation and interaction in all facets of the program along with the executive staff and volunteers is of utmost importance. Social interaction and positive reinforcement will be utilized whenever possible to enhance each individual's learning ability and growth.
AN AFFORDABLE MILITARY ACADEMY
Our program uses the military as a vehicle to reinforce strict discipline, pride and integrity within each of our young cadets. Only a $70.00 annual registration fee will cover the cadets insurance, identification, law enforcement explore or scout registration, TRC baseball cap, Ranger Corps equipment bag, insignias along with awards and certificates presented at our annual graduation. Teamwork, camaraderie but most of all, education; are instilled in each of our cadets and school progress is monitored as well. The cadets strive for perfection in appearance and in their performance in general throughout their years as active members of The Ranger Corps Cadets.
Cadet Castillo has earned himself a promotion! A job well done!
Some members of our Color Guard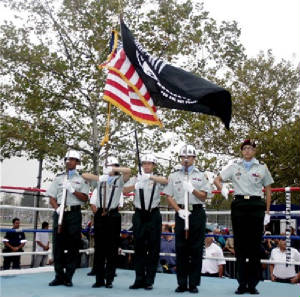 Perform at a Bronx Boxing event. Professionalism is a must!
The Ranger Corps Challenge Coin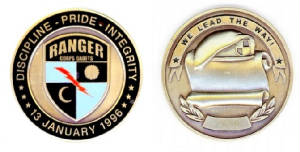 EARNED by only the best Cadets in the Corps.